COVID-19, or the coronavirus, is a global pandemic that's spreading at a very fast speed. And tracking its spread has become one of the top concerns of not only the government but also the citizens around the world. There are some web & apps that may be useful for tracking public health information, like the spread of the deadly virus, but be careful when downloading and using them. In emergencies, many scammers have created fake product applications only to gain access to your data and your money. Therefore, Sioux researched and defined the most useful online dashboards and available public health mobile apps to put together a list of trusted web & mobile apps with the data from the CDC (Centers for Disease Control) to the WHO (World Health Organization) that you can use to track coronavirus and other health threats.

COVID-19 TRACKING DASHBOARDS:
1.




Real-time Dashboard by Kompa Group
A team of five Vietnamese engineers has been working non-stop for 12 hours to build an online dashboard https://corona.kompa.ai which monitors not only infected cases globally in real-time but also allows Vietnamese internet users to catch-up on latest and official news. The idea of building this website to keep track of the latest statistics and information on the COVID-19 is because there was no Vietnamese language supported platform available so far.

Source: Kompa Group

2.


Coronavirus Map by the Johns Hopkins Center for Systems Science and Engineering
A visual display and online dashboard of the Coronavirus epidemic, developed by the Johns Hopkins University - one of the world's leading research centers for science, health, and engineering. The site displays statistics like the number of deaths per country and confirmed cases of coronavirus on a worldwide map. It updates in realtime with data from the WHO, CDC, ECDC. A free download of the data is available.

Source: Johns Hopkins Center

3.




HealthMap Dashboard
HealthMap is one of the most appealing & attractive dashboards for tracking the coronavirus' spread. This site has great visualization and is easy to navigate (if you are a dark mode lover). It aggregates data from many different sources and displays the rise and rapid spread of the virus as a video.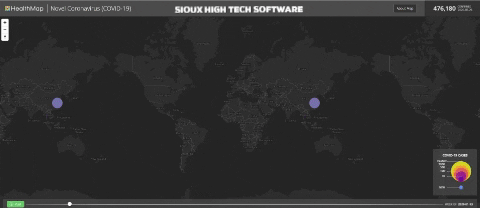 Source: HealthMap

4.




World Health Organization's Dashboard
If you're not a big fan of dark mode, the WHO's Dashboard will be for you. It has a bright and simple interface, provides full and accurate information concerning the number of deaths, confirmed cases per country, area or territory...

Source: WHO

5.




The NextStrain Genomic Epidemiology Dashboard
NextStrain is a highly sophisticated dashboard, pretty technical and complex. It provides detailed information regarding the genomic epidemiology of novel coronavirus. If you are interested in details about the process and how the disease spread worldwide, this map is the best source of information. It breaks down and analyzes the genome of the virus, along with an animated map showing the route that the virus traveled from one country to another. Its data is granted information by GISAID.

Source: NextStrain
If you take your coronavirus information in non-visual form, here's a list of resources on the disease:
Google COVID‑19 Information & Resources
World Health Organization COVID-19 Q&A
European Centre for Disease Prevention and Control - Facts about COVID-19
Center for Disease Control COVID-19 - Key Facts
Vietnam: Ministry of Health Web Portal (MOH)

COVID-19 TRACKING APPS :
06.




CDC Mobile App - Best for Accurate, Timely Information
From the Centers for Disease Control (CDC), the CDC mobile app is one of the best that you can find to keep track of the viruses, especially Covid-19. The app provides the latest and most accurate news, an extensive list of illnesses included in Case Counts, disease of the week… and other information about public health issues.

Download: iOS - Apple Store / Android - Google Play Store

07.




CDC TravWell Mobile App - Best for Those Who Must Travel
If you have to regularly travel to work (We still want to encourage you to restrict movement and change to work remotely during this time if possible) and want to know what kind of vaccinations you have to be aware of, or you want to keep abreast of medical situations in the areas where you are going to work, the CDC TravWell mobile app is what you need. This app provides complete information on health notices from around the world. You can enter a journey on the trip tracker function to receive a list of dos and don'ts regarding health protection.or to receive health notifications for this area. It's very clear travel notices and a useful tool to help plan travel abroad.

Download: iOS - Apple Store / Android - Google Play Store

08.




OpenWHO - Best for Outbreak and Pandemic Education
It's designed more for healthcare professionals than for the average users, the OpenWHO app is a good way to find a shared knowledge of outbreaks and how the epidemic or pandemic is handled. It provides the discussion boards, progress trackers, interesting videos and course materials. The knowledge in the courses offered through this app is very receptive.

Download: iOS - Apple Store / Android - Google Play Store

The Government of Vietnam has released 2 mobile apps for all citizens as well as international visitors to declare their medical conditions as the country escalates measures to prevent the spread of the novel coronavirus disease (COVID-19) epidemic:
09.


NCOVI - Best For All Citizens In Tracking The Covid-19 Information In Vietnam
NCOVI is intended for the Vietnamese public to track the Covid-19 information and make a voluntary health declaration. Any information collected by the apps is strictly used only for epidemic control and prevention and will not be misused for commercial purposes or in a way that violates residents' privacy. Users can perform various functions through the app, including declaring personal risk factors, filling out the universal health declaration form, health tracking, reporting information on suspected cases, viewing Vietnam's epidemic map, and reading official updates on the epidemic.

Download: iOS - Apple Store / Android - Google Play Store

10.


Vietnam Health Declaration – Best For Targets Arrivals From Foreign Countries In Vietnam
Vietnam Health Declaration is an app for target arrivals from foreign countries who are mandated to declare their health condition before entering Vietnam.

Download: iOS - Apple Store / Android - Google Play Store

Hopefully, the information that we synthesize will be useful to you. We encourage all our readers to be informed, wash hands, and isolate themselves if necessary. We wish you to stay healthy and safe!
Sioux – We Bring High Tech To Life
Reference: